I've been looking into replacing the electric deep well pump on my property with a manual had pump for emergency (self reliant) water needs (I have existing county water) but the cost of the reputable pump suppliers are beyond my humble finances. Both the
Bison pump
and the
Simple pump
are in the $1000 range in cost, way beyond my budget. Both of these pumps have issues with the weight of the push rod that drives the foot valve/piston at the bottom of the draw pipe, this is why they require a large lever handles to pry the rod weight up in order to pump. Sounds like a real work-out for water.
I found this gentleman selling plans and kits for a cable driven pump that uses a wire/spring combination to drive the foot valve/piston. Less effort but low volume because of the short stroke design.
http://www.woodhenge.org/2009/05/this-i ... thout.html
Finally I found an engineering solution to deep well manual pumps designed to be simple and low effort for much higher volume pumping.
http://www.econologica.org/yardpump.html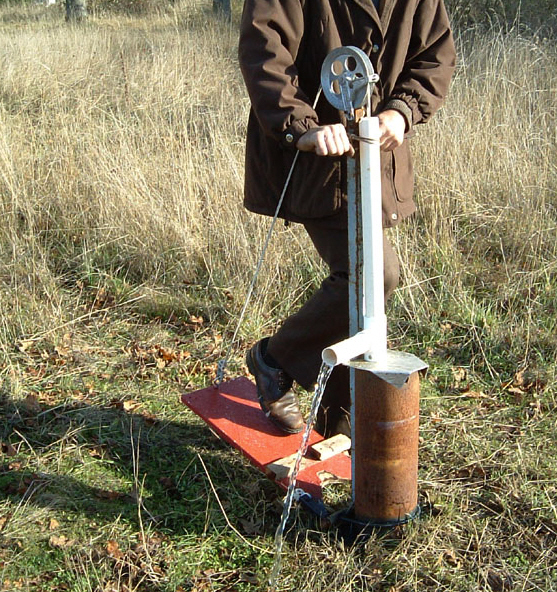 "Problems of Standard Hand and Wind Pumps and Our Solutions
The standard reciprocating pumps used at the bottom of the well effectively rely on the pump rod weight to return them, so pedal drives and small windrotors have to be geared slower. This gravity return also limits the stroke of the pump, so requiring a larger cylinder and borehole; and stiff rigid rising main as well as pump rods to transmit the small upstroke down to the cylinder. So maintenance of the pump and its valves is a very heavy and risky disassembly of the rods if not the rising main.
Our pullpumps have hydraulic return of the piston faster than gravity to allow faster (i.e. foot treadle) pumping at larger strokes, so the wellbore can be smaller and cheaper. And we can use continuous, flexible, lightweight and economical pump wire and rising main for much easier transport, installation, and maintenance. Our unique piston has a dedicated static seal below its working stroke for absolutely no leakback, and pulling it beyond its working stroke effortlessly releases the water column and brings all the valves and seals to the surface for incredibly easy and foolproof maintenance. In our Cottagepump rope can be run laterally inside a buried side pipe for pumping from inside a cabin even in winter."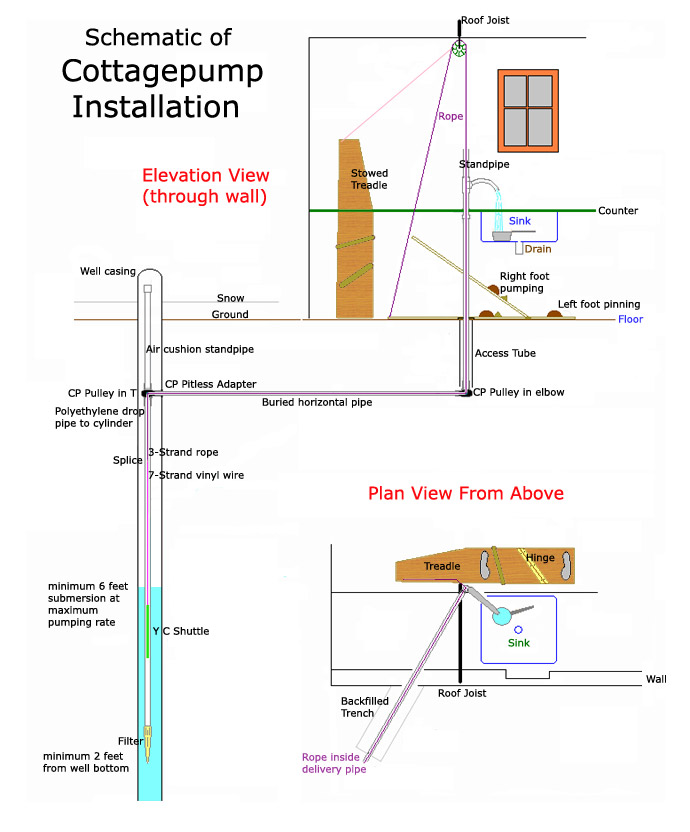 The "shuttle pipe" that acts like both foot valve and piston. PE tubing is used for the drop pipe and a PVC tube for the shuttle to slide in. Very easy to install.